If administrators and teachers had insight into how much time learners are actively spending in their courses, and had the ability to both restrict access to activities based on this time, and generate reports with this data, they would be able to better ensure and monitor learner success and knowledge retention. To provide this requirement, Lambda Solutions has built a set of plugins that allow administrators to track the time learners actively spend in courses and course activities!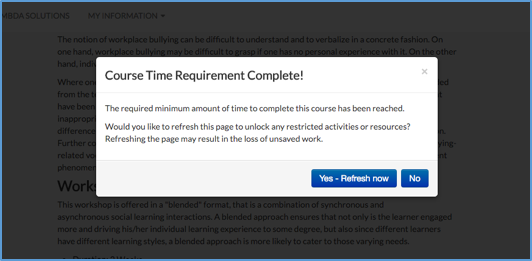 The List of Plugins:
1. Time Spent Learning - This plugin keeps a record of user activity by running calculations on the logs. This plugin works in conjunction with Lambda Zoola™, a reporting solution for Totara and Moodle. This means that the data accumulated with the Time Spent Learning plugin can be easily exported into a report, dashboard, or a variety of interactive tables, charts and graphs.
2. Time Tracker - As the name suggests, this plugin tracks the time each learner spends in a course. It also actively checks that the learner is still present, with an alert window. If the learner does not respond to the alert, it's assumed that the learner is not active (and therefore not learning), and the time tracking is paused.
3. Time Spent - Activity Restriction - This allows admin to restrict learners access to certain activities and resources based on whether the learner has reached the minimum time spent learning in a course. It can also lock down activities after a maximum time has been reached.
4. Course Time Tracker - This block provides a visualization of how much time has been accumulated in the course, along with options to display the required minimum time, and maximum time, via the block setting.
Recap of the benefits of using these plugins:
Time Based Reporting - Track participant's time spent learning in activities and courses, and publish the results through reports powered by Lambda Zoola.

Restrict Access to Activities - Lock and unlock activities in a course based on the time learners have spent in a course.

Confirm a Learner's Presence - The Time Spent Learning plugins provides action-based confirmation of a learner's presence in a course.
{{cta('a50fe755-2ef3-46b7-a7c4-6bbf2c3064bc','justifycenter')}}
Posted on Lambda Solutions Blog on: May 25, 2016 07:00:00 AM PST
Ben Young
Ben is the Director of Application Support for Moodle and Totara LMS
ben.young@lamdasolutions.net