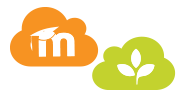 If at any point you have researched cloud hosted learning management systems, there's a good chance you've come across both Moodle and Totara LMS. Moodle is the world's most popular LMS, with over 85 million users across the globe. Totara was built off of Moodle's foundation, with extended features designed for enterprise clients. While Totara has recently parted ways with Moodle, they still share many similarities. With such a common platform, how do you know which one is right for you? We're here to help you, with a categorized full feature comparisons of the two. The categories are Course Creation, User Management, Mobile, Ecommerce, Standard Reporting, and Standard Integrations.
Course Creation Features:
Available in both Moodle and Totara:

Learning Outcomes, Course Curriculum Learning Paths with restrictive access, Activity and Course Completion criteria, Discussion Forums, Badges, Polling, SCORM, Assignments (Online, File Upload, Offline), File Uploads (PDF, Doc, PPT, Media), Online Content Authoring with a Rich Content Editor, Survey/Feedback, Face-to-Face Bookings, Collaborative Learning (wiki, workshops, database, glossary, chat), Quizzing, Learning Plans, Face-to-Face, Web Conferencing (Plugin/Add-on service), Media Streaming Library (Plugin/Add-on service)

Available just in Totara:

Programs, Program Certifications, Recertification Paths, Program Sequential Course Sets, User Learning Plans, Performance Management
User Management Features:
Available in both Moodle and Totara: Profiles, Roles and Permissions, Calendars, Notifications (email, online, alerts), Course Enrollment, Site-Wide Dynamic Groups, Single Sign-On
Available just Totara:

Manager to Learner Relationship, Learner Appraisals/Reviews, 360 Feedback, Organization Structure and Hierarchy, Position - Hierarchy, HR Import, Competencies,
Standard Integrations Features:
Available in both Moodle and Totara:

LDAP/AD Integration, LTI, Standard Repositories (Equella, Google Drive Alfresco, Flickr, Dropbox, Picasa, Wikimedia).
Ecommerce Features:
Available in both Moodle and Totara:

Course Shopping Cart (This is a Plugin/Add-on service for both Moodle and Totara)
Standard Reporting Features:
Available in both Moodle and Totara:

Online Gradebook, Activity and Course Completion, User Transcripts, Zoola Analytics
Mobile Features:
Available in both Moodle and Totara:

Mobile Support
{{cta('9a9f1134-5610-4418-9c1d-40b276fdb76e','justifycenter')}}
Posted on Lambda Solutions Blog on: Aug 09, 2016 08:00:00 AM PST
Ben Young
Ben is the Director of Application Support for Moodle and Totara LMS
ben.young@lamdasolutions.net